American Public Transit Association Selects Best Agency, Recognizes Sustainability Leaders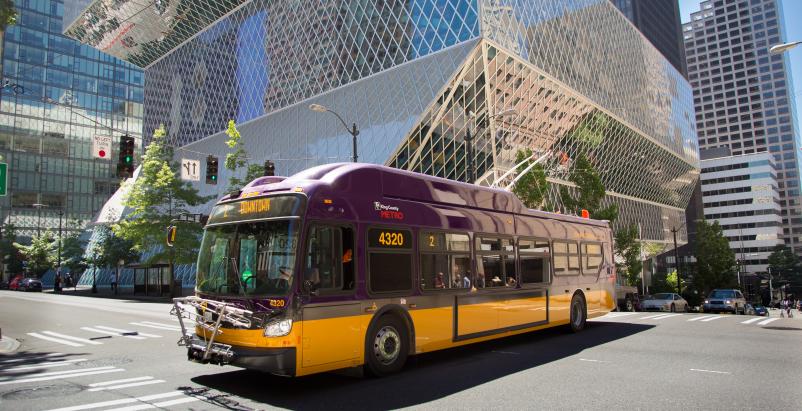 Courtesy: King County Metro
The nation's foremost transit association, American Public Transportation Association (APTA) has named King County Metro Transit the best large transit system in North America. Providing public transportation across the greater Seattle area, King County Metro was selected by judges who considered 12 qualitative measurements that covered the previous three years. Those measurements include: safety; operations; maintenance; access; customer service; financial management; sustainability; workforce development; attendance and employee costs; minority and women advancement; marketing; community relations.
APTA cited Metro's three straight years of record ridership, the ORCA Lift program, which provides discounted fares to low income riders, and ORCA Passport, in which area businesses pay for free or reduced-price ORCA cards for their employees. ORCA Lift "has become a national model in providing equitable access to public transportation," according to APTA.
King County Metro provides a wide range of transportation options. In addition to the region's largest bus network, choices include vanpools via Rideshare, rail travel, water taxis, paratransit services, along with new forms of transportation solutions detailed on a user-friendly app and website. Metro also operates Sound Transit's regional Express bus service and Link light rail in King County, along with the Seattle Streetcar. Metro has over 200 routes serving the Puget Sound area. Many buses connect to Link light rail, Sounder trains, Seattle Streetcars, King County Water Taxis and Washington State Ferries, according to the King County Metro Transit website.
"It is my honor to congratulate King County Metro for winning the 2018 Outstanding Public Transportation System Achievement Award," said APTA President & CEO Paul P. Skoutelas. "King County Metro has contributed greatly to advancing public transportation in the Greater Seattle area. As a recognized leader in public transit excellence, the employees of King County Metro and the community it serves should be very proud."
The APTA, based in Washington, D.C.-based, represents more than 300 transit agencies in the United States and Canada, and judged King County Metro's performance over the past three years. During this time, according to an August 6 news release issued by County Executive Dow Constantine, the agency significantly increased ridership, launched the nation's leading reduced-fare program for passengers who earn a lower income, improved passenger and operator safety, and accelerated the industry's transition to zero-emission bus fleets.
King County Executive Dow Constantine and Metro General Manager Rob Gannon will receive the Outstanding Public Transportation System of the Year Award at the association's national conference in Nashville on Sept. 25. Executive Constantine will host a local celebration in early September to thank Metro employees, partners, and passengers.
"To our talented Metro employees, our steadfast partners, and our loyal customers: Thank you for helping us bring this prestigious award to King County," said Executive Constantine. He added, "This is an honor we share with the community we serve and an outstanding example of the progress we are making to create the nation's best-run government for the people of King County." The greater Seattle area continuing to lead the nation in transit ridership growth.
"Being named best in North America is a truly humbling and gratifying moment," said King County Metro General Manager Rob Gannon. "This award goes to each one of the 4,700 employees at King County Metro, in honor of the hard work and amazing customer service they provide every day," added Gannon. "Thanks to them, we keep our region growing, economy thriving, and connect people with opportunity, and thanks to continued public support, ridership is stronger than ever and leading the nation," noted Gannon in a news release.
The association previously named King County Metro the best large transit agency in North America in 1983 and 1992. The award comes weeks after authors of a comprehensive study on the health, economic, and environmental benefits of electric buses encouraged other metropolitan regions to follow King County's lead to accelerate the transition to all-electric bus fleets nationwide.
Other metropolitan regions are studying King County Metro's successful reduced-fare program for passengers who earn a lower income, ORCA Lift, which Executive Constantine launched in 2015, according to the news release issued by the County Executive. 
King County Metro provided an all-time high 122 million trips in 2017 on more than 200 bus routes. It also provided nearly 1 million trips on its Access paratransit service for people who have limited mobility options, according to the news release issued by the County Executive's Office. The agency's long-range vision, Metro Connects, outlines a plan to double ridership by 2040. Seattle has been virtually the only city in the country to see continual growth in transit ridership over the last several years. A Seattle Times article written by David Gutman on August 6, reported that people boarded Metro buses about 400,000 times every weekday in 2017, a figure that has increased every year since at least 2011. The article also noted that Seattle region is spending more per capita to build new rail lines and expand bus service than any other city in the country. At the same time, according to the Seattle Times article, area voters have supplied the agency with more tax money, so much so that Metro has been unable to hire enough drivers to spend that money and keep up with rising demand. And despite at least twice-annual service increases, the most popular routes continue to struggle with packed buses and late arrivals. With the greater Seattle area continuing to lead the nation in transit ridership growth, County Executive Constantine, who is also a member of the Sound Transit Board of Directors, continues to work with planners at King County Metro and Sound Transit on better aligned services to meet the growing demand.
Sustainability Commitments Applauded
In other APTA news, an August 1 APTA announcement said the association recognized six of its member organizations for continued achievements in sustainability during APTA's Sustainability & Multimodal Planning Workshop in Vancouver, Canada, which concluded July 31. Public transit agencies and businesses voluntarily choose to join the APTA Sustainability Commitment program and pledge to implement processes and actions that create continuous improvements in environmental, social, and economic sustainability. Based on specific measurable achievements, organizations are given Platinum, Gold, Silver, and Bronze Level recognition.  
The most recent signatories of APTA's Sustainability Commitment are Capital Metro, based in Austin, TX, which received Gold Level status, Valley Metro, in Phoenix, AZ, receiving Silver Level status, and Honolulu Authority for Rapid Transportation (Honolulu, HI) receiving Bronze Level status. Earlier this year, APTA recognized the Metropolitan Atlanta Rapid Transit Authority (Atlanta, GA), Caltrain, and SamTrans (San Carlos, CA) for achieving Silver Level status.
"Sustainability and public transportation go hand in hand with each other," said APTA President and CEO Paul P. Skoutelas. "Thanks to the voluntary commitments that these public transit systems have made to environmental, social, and economic sustainability, communities across America are now more livable," he added. Skoutelas also commended this year's public transit system's Sustainability Commitment recipients located in Austin, Honolulu and Phoenix, saying , "Their leadership in sustainability and the successful results of their actions should serve as an inspiration to other organizations."
First started in 2009, 146 public transit agencies and businesses have signed on to the APTA Sustainability Commitment.  Currently, 46 signatories have received higher level recognition, as reported in the APTA news release, issued August 1.
The American Public Transportation Association (APTA) is a nonprofit international association of 1,500 public and private sector organization which represent a $68 billion industry that directly employs 420,000 people and supports millions of private sector jobs. APTA members are engaged in the areas of bus, paratransit, light rail, commuter rail, subways, waterborne services, and intercity and high-speed passenger rail. This includes: transit systems; planning, design, construction, and finance firms; product and service providers; academic institutions; transit associations and state departments of transportation. APTA is the only association in North America that represents all modes of public transportation. APTA members serve the public interest by providing safe, efficient and economical transit services and products.