Address Housing Needs of Seniors with Focus on Veterans, Says NLC Study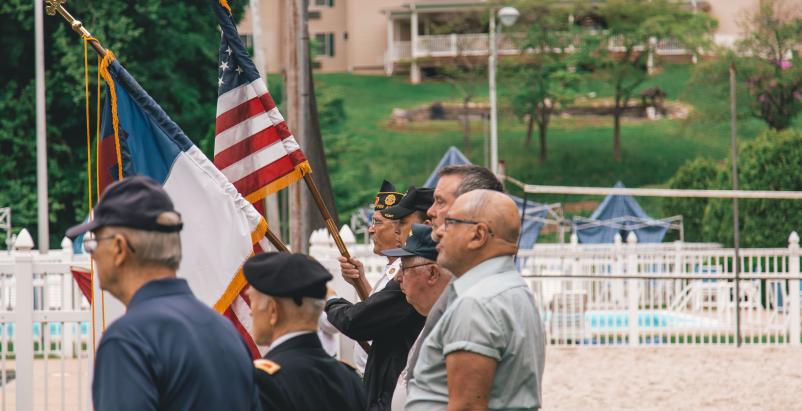 This is the third in a series of news updates S&RC is providing on the recently-convened 2018 City Summit held recently by the National League of Cities (NLC)
Of the numerous issues on the priority list for city leaders, housing has topped the list of late. Working to place a spotlight on homelessness and housing struggle of seniors, the National League of Cities (NLC), with support from The Home Depot Foundation, has released a major housing study. The report, issued on Veteran's Day weekend, during NLC's 2018 City Summit, indicates that cities can most effectively meet the housing needs of seniors by focusing on veterans first. Data from "Veterans First: An Approach to Meet the Housing Needs of Seniors" reveal that helping aging and disabled veterans stay in their homes can improve the ability of local leaders to meet the housing needs of all seniors.
"Veterans have sacrificed so much to defend everything our country stands for, and this research shows the critical need for cities to, in turn, support them," said Clarence E. Anthony, CEO and executive director of the National League of Cities (NLC). "Everyone deserves the chance to age in place, in their own communities and in their own homes," noted Anthony, who added, "Because of this new research, we now have a much clearer understanding of how to do this for not only veterans, but for all seniors in cities across the country."
Similarly, in analyzing census data from 39 cities across the country, NLC's report, detailed in a November 10 news release, found that cities can also make progress on meeting the housing needs of all seniors by again focusing on the needs of veterans first.
Compared to non-veterans, the report found that veterans are older, more likely to have a disability, and are more likely to own their home. These findings and the availability of specific resources to help veterans make home repairs and modifications provide city leaders with the information and ability to improve how communities meet the housing needs of senior veterans. As cities improve how they meet the housing needs of senior veterans, this progress can be extended to the larger non-veteran senior population, according to the report.
Recommendations for cities looking to implement this approach include the following three, according to NLC's report: 1) Asking the right questions to identify veterans in the community; 2) Expanding the number of community partners working to identify veterans; and 3) Gathering the appropriate stakeholders to improve how services and information are coordinated.
Additional findings emerging from the data resulting from the study were summarized by NLC at its City Summit and in the background released after the announcement, and include the following notable recommendations.
Veterans are more likely to own their own homes, but they tend to be older and more likely to have some form of a disability than non-veterans. Increasingly, local leaders are confronted with the costs associated with more residents — both veterans and non- veterans — aging in their communities. Calls to first responders regarding preventable slips, falls and other injuries related to mobility consume limited time and resources.
NLC's research indicates that local governments and agencies can make progress on housing issues for their communities at-large by focusing on veterans first and extending that progress to other subpopulations. Low-cost home modifications such as installing grab bars, wheel chair ramps, non-slip flooring, and lower countertops and cabinets, as well as widening doorways and putting in no-step showers, can enable homeowners to remain safely in their own homes. These repairs can also reduce the need for interventions by first responders and prolonged stays in expensive emergency rooms and recovery facilities. Importantly, making these adjustments for senior veterans allows them the dignity and comfort of remaining in their communities and homes as they continue to age.
With an estimated 46.2 million people aged 65 and older, addressing the issue of home repairs and modifications for everyone can seem daunting. As the end of 2018 nears, our nation is more than one third of the way through this historic demographic change. Increasingly, noted NLC's report authors, local leaders are confronted with the costs associated with more residents aging in there communities.
To help local leaders make the right decisions to support their aging residents, the National League of Cities (NLC) partnered with The Home Depot Foundation to analyze American Communities Survey data and inform community conversations and actions. The organization noted that it intends to continue to maintain a spotlight on civic solutions to housing, and suggested during the recent 2018 City Summit that forthcoming announcements would be made to that end.