Adapting To The Age Of IoTrash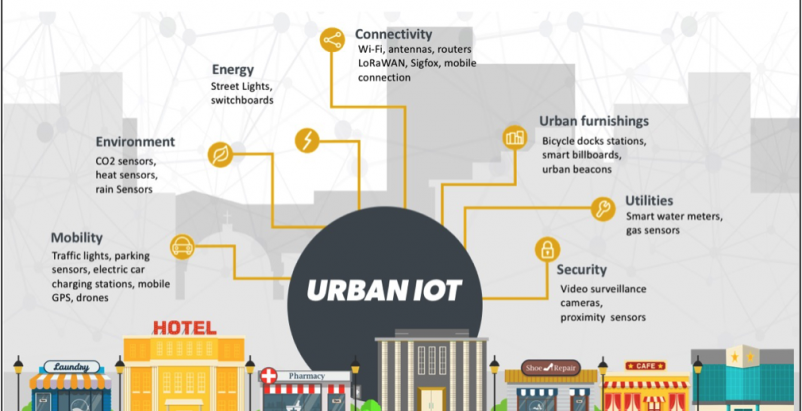 The world's awareness about the environmental impact of our trash is nothing new. And I am not talking only about generic garbage like plastic, metal or paper. Indeed, specific high-polluting functional products are also being considered. Nowadays, in most part of the countries, to sell a new tyre in the market, companies should provide to the local authorities a certification of recycling. Typically, introducing one new tyre in the market entails removing an old one from the environment. We just have 3 billion tyres in the word, and this number will probably not grow so fast . The concept of circular economy is also evolving in our smart cities and one of the main targets are products that should be readapted or refurbished to be re-used.
The IoT boom is already a reality and will continue to rise. By 2020, there will be more than 50 billion connections worldwide. If not carefully controlled, this remarkable growth can unfortunately result in IoTrash (electronic trash) — a huge concentration of electronic trash in our cities. The IoT hardware lasts longer than the technology's lifecycle. Alarmingly, this imbalance means that hardware becomes redundant prematurely. Right now, sensors embedded with new Bluetooth technologies are being installed under and over our streets, and their batteries will last from three to five years while applied technologies will probably be outdated just months after installation. Consequently, these assets could just be abandoned and remain uncontrolled. Such lack of control presents not only significant cost and reduced ROI on asset sunk cost for the private sector but also a potential hazard for our cities.
Cities continue to expand, and governments need help managing these assets. Nowadays, most part of utilities supplying and maintenance are licensed to private companies through the public-private partnerships agreements. So, it is also increasing the need for an efficient tool to manage and control any type of IoT assets — including analogical assets such as street lightning.
Suiphos Urban Intelligence (SUI) is a spinoff, created by SECE, a 105 year's old Spanish company with technical support of Eb4IT (a European consultancy company for technology). Their solution is called Suiphos, the world's first web platform tailor-made to harness the urban IoT was conceived as an innovative solution in the IoT industry. The platform was developed in Barcelona and based on a robust software crafted after 30 years of experience of the parent company. It provides a holistic picture and includes maintenance status by allowing a multilayer view of the IoT devices implemented in the city.
Suiphos helps private and public enterprises keep track of their IoT hardware inventory in seven categories of IoT solutions (energy, mobility, connectivity, security, utilities, urban furnishing and environment —including a total of more than 30 types of urban IoT hardware like street lights, Wi-Fi spots and smart sensors. It provides full control of preventative and corrective maintenance ops, inventory geolocation, GPS tracking and uses cutting-edge technology to digitise non-digital urban inventory. What's more, Suiphos manages their upkeep in a geolocation-based solution. The platform automatically creates work orders for pre-scheduled preventive maintenance and fully manages repair requests originated from citizen attention channels like Facebook, twitter and call centers. Suiphos also records all maintenance-related operational activities, including vehicle fleet, mobile and tablets devices GPS tracking — providing a powerful Business Intelligence analytics tool to avoid IoTrash.
Suiphos empowers governments with business intelligence tools to create a new level of urban intelligence (UI). With this UI, governments can plan the future with economic prosperity and sustainability in a smarter, more efficient way. When it comes to this new level of complexity in urban IoT, private companies require a tool that can help them to track and maintain the IoT hardware to keep all records for the lifetime of the contracts.
Aside from keeping IoT inventory geolocated, the platform also provides a GPS tool that geographically tracks maintenance workers and vehicles. This real-time data enhances reliability and timely responses, offering a practical solution to urban planning and smart city development. Imagine if we could cross information in a city map about street lightning, connectivity (WiFI, SigFox, LoRaWAN, Mobile…) with the criminality reports; we can create more strategies to mitigate our urban problems and consequently increase citizens quality of life. After all, isn't this what we are seeking to establish through the concept of smart cities?
However, it is still a young venture — SUI has an already impressive list of accomplishments. In early 2017, Suiphos was the only European smart city/IoT project selected to participate in the ReadWriteLabs acceleration program in Silicon Valley, the world's largest accelerator for IoT companies. SUI was also accepted as member of Amazon Web Services prestigious "startup club" called The AWS Activate program, the same done by unicorns like WeTransfer, Airbnb, Pinterest and Slack — displaying a reliable potential growth.
By the end of 2017, Suiphos will be already full operative in 5 countries and will control the maintenance ops of a range of more than 30 different IoT hardware. It is expected to be more than 10 million assets properly geolocated and identified with a unique number ID. The goal is to offer to local governments reliable information about a city's embedded technologies, following the same concept behind the certification of recycling for tyres, previously mentioned — which allows sustainable growth for the urban IoT.
When discussing Smart Cities, it's imperative to address 3 main axes: applied technology , people-oriented  and resilience. Cities need to find reliable foundations to reduce cost and improves sustainability. Traceability is the key-point to optimise the new urban IoT deployment to increase efficiency and, finally, to contribute with the development of authentic smarter cities.
Renato de Castro is the CEO of Smart Executive Boy at SUIPHOS and serves on the global advisory board of Leading Cities. His most recent project is a short film about London's Smart City efforts, which can be viewed here.