The 2018 ITS America Meeting & Expo Explored The Future Of Mobility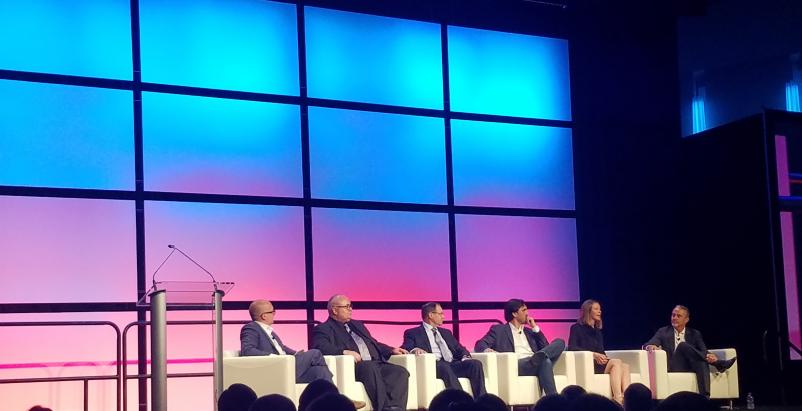 Without reliable and efficient modes of transportation, cities could not exist. As urban populations continue to grow, cities and companies alike must work together to ensure that transit infrastructure evolves in tandem.
To advance this discussion of mobility, the Intelligent Transportation Society of America (ITS America) hosted their annual meeting in Detroit from June 4-7. Featuring dozens of presentations, hands-on workshops, keynotes and an exhibit hall full of smart transportation vendors, the 2018 ITS America Annual Meeting & Expo gave attendees the tools and lessons needed to work together and innovate transit for the 21st century.
"The purpose of ITS is to bring people together," ITS America President and CEO Shailen Bhatt said while introducing a keynote.
While many sessions dove deep into high-tech topics like autonomy, the Internet of Things, drones and analytics, speakers were sure to tie-in universal best practices. Chief among them at this show was collaboration. As demonstrated by innovation ecosystems like PlanetM and RoadX, public-private partnerships have a proven track record of delivering modern and sustainable transit solutions. As befitting the technology and solutions that cities will need to utilize, models like this represent the innovative leadership needed in the public sector.
"We are the leaders of this revolution," Michigan Governor Rick Snyder said during his keynote address. "Let's not step back, let's step forward."
While U.S. cities face a long road ahead toward modernizing transit, success stories and best practices have emerged. With this in mind, ITS America honored exemplary players with their annual awards. Director of Michigan's Department of Transportation Kirk T. Steudle was inducted into the ITS Hall of Fame, while California and the Carolinas were bequeathed the Outstanding State Chapter Award and the Overall Membership Growth Award, respectively. In the Best of ITS categories, the nonprofit American Center for Mobility won the Connectivity, Autonomy, and the Future of Transportation category while the U-23 Flex Route project won the Transportation Systems Operations category. Winner profiles can be read here.
Throughout the show, attendees took to social media to share other key themes and best practices, including new technological advances and the importance of security and privacy. The best tweets can be found in a curated timeline below.