Smart CityScape Series: Atlanta Part 1 – Sustainable City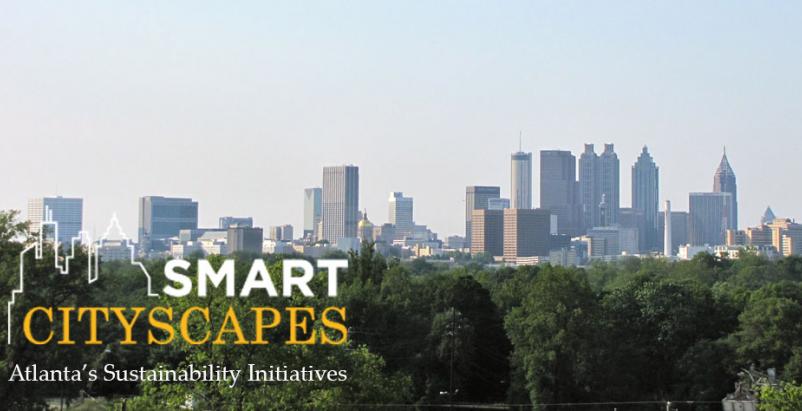 By any metric, Atlanta is a Smart Cities leader. A regional leader and hub, the city serves as a shining beacon as to what cities across not just the South, but the nation, can accomplish.
Atlanta's excellence stems from a history of dynamism. Since its rebuilding following the Civil War, Atlanta has boasted a diversified economy, robust infrastructure and continued growth. During the 20th century, Atlanta was a stronghold for the Civil Rights movement, counting Martin Luther King, Jr. among its residents.
Throughout its existence, Atlanta has differentiated itself from nearby cities through continuous growth and progress. Today, the city continues this tradition through its commitment toward becoming a smarter, more resilient metropolis.
In its Smart Cityscapes Series, Smart & Resilient Cities takes a look at how cities like Atlanta are adopting policies, data and technology solutions to address immediate and future urban challenges; define goals; and meet the needs of citizens and improve their quality of life.
….
Atlanta appears as a forested city, its tallest towers rising above a vast plane of foliage. While Atlanta is only ranked 51 out of 100 by the Trust for Public Land's ParkScore, the city's leafy canopy makes up the difference. Trees cover 36 percent of the city, far above the national average of 27 percent.
The majesty of Atlanta's urban canopy didn't come accidentally. Since 1985, nonprofit Trees Atlanta has focused on improving the forest, planting and replacing trees as needed. On Oct. 15, Trees Atlanta joined with the City Council for Plantlanta, the first citywide tree-planting event in Atlanta history.
Leading the way in urban forestry, Atlanta continues to strive towards a greener city. Such sustainability efforts are nothing new for the city, though. Indeed, they've become a core element of Atlanta's vision of the future – and its character.
"Sustainability is part of being welcoming," Atlanta Chief Resilience Officer Stephanie Stuckey Benfield said in a phone call.
Through the support of the Rockefeller Foundation's 100 Resilient Cities, Atlanta promoted Benfield to the position of CRO on November 3. Prior to this appointment, Benfield served as the city's Director of Sustainability for over a year-and-a-half. Benfield's history of civil service runs deep, though – she was a State Representative for 14 years. During her tenure, she served alongside one Kasim Reed – the current mayor of Atlanta.
"I'd always admired his ability to get things done," Benfield said. "We wanted to make Atlanta a top-tier city for sustainability, and he made it happen."
Reed made this pledge in 2010, beginning another chapter of Atlanta's robust history. Along the way, he hired his old colleague Benfield to oversee the city's sustainability transformation.
During her time as the Director of Sustainability, Benfield advanced the city's objectives through an increasingly common governmental tool: partnerships. As a state rep, she was used to working with a wide variety of groups to get legislation through, so collaboration stood out as an effective route toward sustainability.
"It was a no-brainer," she said. "Forming partnerships was the only way to get everything done."
To this end, the city, through the Office of Sustainability, has joined forces with local partners in order to accomplish its goals. Atlanta is a major participant in the Department of Energy's Better Buildings Challenge, as it one was one of the first six cities to join the initiative in 2011, along with Los Angeles, Seattle, Denver, Washington, DC, Sacramento and Houston. The city is also in negotiations with Georgia Tech, Rubicon Global and nearby historically black colleges, to work on tackling sustainability issues. By cooperating with and utilizing the resources of local stakeholders, the city's agenda of sustainability becomes much easier to implement.
Atlanta's sustainability initiative plan, Power to Change, outlines the various areas that the Office of Sustainability hopes to improve upon. Ranging from air quality to transportation, the Power to Change plan offers a comprehensive look into Atlanta's long and short-term goals. Benfield's job means juggling all of these tasks.
Functionally, Benfield says, her job boiled down to four chief areas of programming, all elemental in focus: water, land, air and waste. The aforementioned Plantlanta program falls under "land" programming. "Air" accounts for air quality, thus tying in emissions, climate change and energy efficiency. Efficiency also falls under the purview of "waste," as this focus area looks at refrofitting along with recycling initiatives. The newest programmatic agenda, "water," is currently devoted to restoring the heavily polluted Proctor Creek.
To cover such a broad range of goals, the city needed, and still needs, to do more than just cultivate partnerships with legacy institutions - civic engagement and data strategy would prove vital. Under Benfield, both avenues have been explored.
With recycling pushes at the frontlines, the Office of Sustainability regularly holds town halls and assemblies to inform the public of what they can do to help the city. On a deeper level, Atlanta also utilizes Neighborhood Planning Units, citizen planning units that advise the city on developmental goals. This outlet for residential voices has given the Office of Sustainability even more perspectives when planning for the future.
Though they have a far-reaching plan and a vast urban forest, the city is still vulnerable in key sectors. Transportation, 100 Resilient Cities points out, is one of them; the city's highway system is overtaxed and congested, leading to higher emissions rates. Meanwhile, a dearth of affordable transit options has left underserved communities as food deserts.
Even with these challenges to face, Atlanta is moving in the right direction. 100 Resilient Cities' partnership with the city demonstrates as much, and their contribution will allow the the city to explore sustainability solutions on a deeper level.
"We'll be looking at sustainability on a larger scale," Benfield said. "This includes climate change, infrastructure, food resilience and transit."
Atlanta's continued and progressively growing commitment toward sustainability brings with it not only social and environmental benefits, but substantial economic benefits going forward. As resilience becomes increasingly prized by large companies, a city that can reciprocate such values grows in value as well. Delta, Benfield said, renewed their commitment to stay headquartered in the city, and a growing insistence on sustainable goals contributed to that.
"The bottom line is that you can't attract businesses unless the city is sustainable," Benfield said. "When businesses look at cities, they consider these factors."
Sustainability is on the road to becoming as integral part of Atlanta's cityscape as its treeline. As more and more clean technologies and opportunities for green partnerships appear on the horizon, prepare to see Reed, Benfield and the City of Atlanta eagerly pursue them.