Event Puts North Carolina Cities And Counties On The Path To Becoming Smart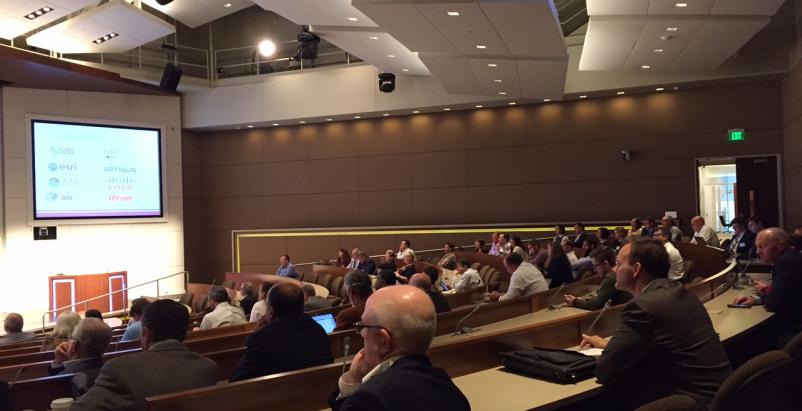 Imagine a city whose vehicle fleet is equipped with sensors, and that the pattern of "thumps" as a maintenance truck crosses a bridge could indicate it's at risk of collapsing? Or the bump a City Works vehicle endures tells engineers about a new pothole? This is happening in Pittsburgh and Boston.
What about a parking app that reduces congestion, emissions and fuel usage? Or motion detecting smart streetlights that lower energy use and carbon impact? Those are two examples of Smart Cities initiatives in Dubai that have saved the city more than $1 billion.
How nice would it be to have an automated water metering system that allows a town to alert citizens of leaks that could cost hundreds of dollars? That describes the Town of Cary, NC's Aquastar system.
These examples just scratch the surface of what Smart Cities initiatives can do. In October at SAS, 62 representatives from North Carolina cities and counties joined SAS and economic development partners to discuss how to plan, launch and sustain Smart Cities projects. The event, dubbed Envision Carolina, could serve as the spark for innovations that transform our state and improve quality of life for our citizens.
Why is this important now? At the event, keynote speaker Jesse Berst, Founder and Chairman of the Smart Cities Council, claimed, "The next 10 years will see more change in urban life than the previous 100 years." For instance, transportation is evolving so rapidly that in a decade we'll get around large cities with a combination of mass transit, self-driving cars and self-driving mass transit.
Smart Cities can mean different things to different people, but the speakers at Envision Carolina agreed that the internet of things (IoT) is a cornerstone of any such initiative. IoT includes sensors, communications networks and a way to make sense of a whole lot of data. For SAS, of course, that way is analytics.
Analytics is used to find meaningful patterns and anomalies in data so that people can make better decisions. For instance, in the Boston road work example, the size of the "bump" experienced by the car may be anomalous to other "bumps," indicating a larger pothole that requires filling.
Smart Cities have an abundance of data that has the potential to provide cost savings, improve citizen services and enhance quality of life. In addition to data from traditional administrative systems, they now have explosive emerging data sources, such as social media and the IoT. Add to that expanding online services. All this data can fuel efficient and innovative city management – if cities can harness it.
Harnessing it requires the ability for data to be transmitted, quickly, regardless of amount. Berst hammered home the importance of cities being on the "broadband highway."
What cities and counties need to know
Berst and others offered advice for local government leaders hoping to launch Smart Cities initiatives. From overcoming common challenges, to engaging stakeholders to where to start, attendees came away with valuable information, no matter where they are in the Smart Cities journey.
For instance, he said that leaders should create a vision of what they want their city to be. Do they want to be a tourist destination, manufacturing center, a retirement haven? This vision should guide strategy.
Speakers provided some tips for strategy, including:
·Start with a quicker, simpler Smart Cities initiative and use savings from that to fund the next one, and so on, and so on.
·Consider multi-use options when updating or adding any new city equipment. For instance, when adding solar-powered street lights, also add communications devices and sensors that monitor air quality.
· Make sustainability a key part of your strategy. Smart buildings can track carbon, and energy use, and even sense potentially dangerous seismic activity.
·Don't forget underserved populations. Smart Cities innovations can be used to address issues associated with poverty, and promote social equity.
·Strive for more open data. By making more government data public, you can reduce the amount of staff time required to address citizen question. For example, Albuquerque's open data portal contributed to 423,000 fewer 311 calls from the public.
Putting ideas into practice
Last month, select local cities and counties reconvened at SAS for a hands-on workshop to craft concrete plans and strategies to launch Smart Cities initiatives. The participants sat down with technology providers to create plans for such efforts as bringing public transportation to rural areas, sharing public safety data with citizens, expanding broadband access, improving inspections efficiencies, adding automation to utilities tasks and gaining a complete view of all municipal service deliveries and interactions for any address.
The City of Durham is attempting to more accurately monitor energy consumption and measure ROI for energy projects. The City spends more than $8 million on utilities, and used the workshop as an opportunity to reduce energy consumption by five percent in the first year, and create a City of Durham Roadmap to Sustainability. Steven Hicks, Director of Durham's General Services Department, attended the workshop.
"It was a great opportunity to collaborate with the private sector to solve a problem and improve ways to reduce the City's energy consumption with better technology," said Hicks. "Providing our staff with access to real data and analytics can greatly assist the City in streamlining operations and increasing efficiency."
The City of Charlotte's overall goal is to better understand their citizens' use of city services. To help with that goal, Charlotte launched a Smart Cities initiative that will integrate data from various departments including police, fire, public works, and code enforcement to gain a single, comprehensive view of an address. 
"Participation in the Envision Carolina workshop allowed us to advance our Smart City project in just a short time," said Rebecca Hefner, Research and Analytics Manager, City of Charlotte Management and Financial Services. "Access to SAS' technical expertise and breadth of experience, as well as solutions ideas from a variety of partners, helped us think about our project in new ways."
Envision Carolina will help the Tar Heel State get off the Smart Cities starting block. There is tremendous potential to make better use of city and county data. The Smart Cities revolution is young, and there is much to learn. In October, Berst told the crowd, "It's smart to learn from your mistakes, it's smarter to learn from the mistakes of others."
Things are changing rapidly, and there will be mistakes. The key is to fail quickly. It is a time of incredible opportunity for cities.
"You're in a race. The world's not waiting," cautioned Berst.